In our new video, five colleagues who joined BKL through social mobility charity LTSB reflect on how they've developed their careers and grown personally with BKL and LTSB's joint support.
Featured in the video are:
Mille Everett, Assurance
Ellie Barrow, Advance Business Services (ABS) and The BKL Foundation
Michael Okello, Finance
Tom Li, ABS
Bilshan Mensah, ABS
Thank you to all of you, and all the LTSB apprentices we've welcomed since its foundation, for giving both our organisations so much to take pride in.
LTSB 10 Year Gala
Earlier this year, we were also proud to play a part in the LTSB 10 Year Gala. Fabio Riccio (ABS) was among the LTSB alumni invited to give a speech about his personal and professional journey. Fabio, who joined BKL in 2015, became a Senior Manager in April. Another of the speakers was BKL alumna Bola Lawal who, like Fabio, had won LTSB Apprentice of the Year in 2017.
Nadine Clarke, Senior Manager in our People team, says: "We had great food and were thoroughly entertained by a live, mobile band playing classics. But we can't forget why we were there. The stories that many of those who have been supported by LTSB shared were very touching. Catherine Gurner (Head of Business Development) and Debs Barlow (Employment & Opportunities Director) both greeted us like family and that night we were all part of the LTSB family."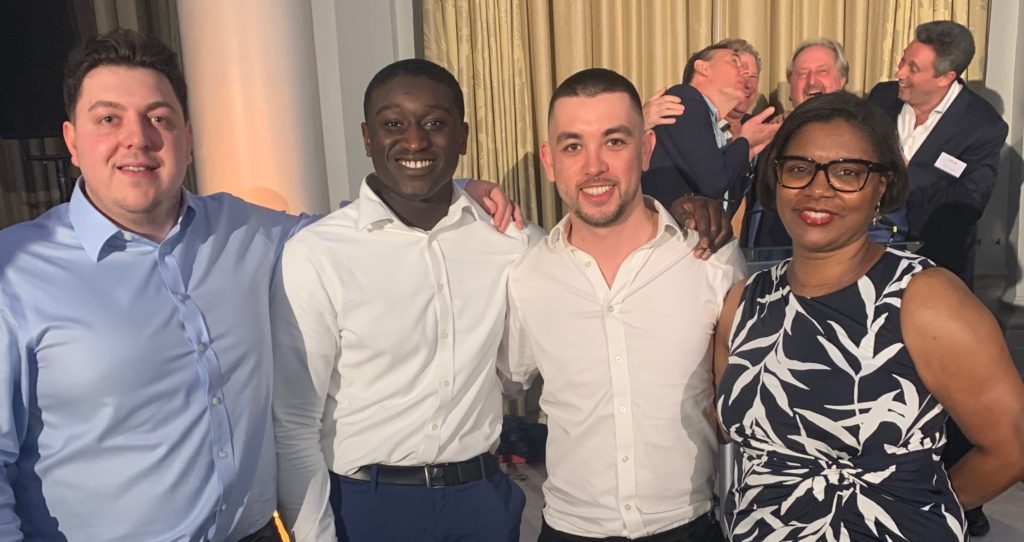 Fabio, Bilshan, Tom and Nadine at the LTSB 10 Year Gala
Like LTSB, BKL is committed to helping bright, dedicated people from diverse backgrounds to develop in meaningful roles: we benefit and our clients benefit. We will continue to do justice to LTSB by working with them to invest in outstanding people.
Find out more: